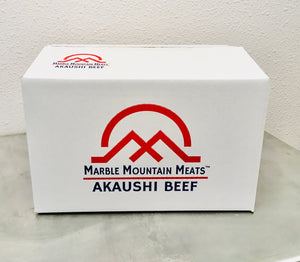 Our 1/8th Akaushi Beef Box option is a great way to enjoy our pasture raised Akaushi Beef for months while saving some money. Meat is vacuum packed and shipped frozen with dry ice. 
An 1/8th Akaushi Beef Boxes Contains Approx. 45 to 50 lbs of Meat,

2 Akaushi Ribeye Steaks  

2 Akaushi New York Steaks
2 Akaushi Filet Mignon
2 Akaushi Top Sirloin Steaks
2 Akaushi Chuck Steaks
2 Akaushi Beef Cross Shanks
4 Cube Steaks
1 Akaushi Chuck Roast
1 Akaushi Sirloin Tip Roast
30 packs of Akaushi Ground Beef
 Notes:
1/8 beef requires about 3 to 3.5 cubic feet of freezer space. 
Shipped in 2 boxes.

Actual weight and sizes of cuts may vary based on the size of the animal.

1/8 beef orders may take up to a 5 business days to process and ship.
Eighth Akaushi Beef Boxes are shipped on Mondays and Tuesdays only.