From Our Ranch To Your Plate
KNOWING WHERE YOUR FOOD COMES FROM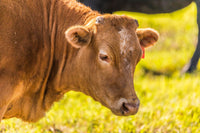 Our family's cattle ranch is nestled in the beautiful and peaceful Scott Valley near the Marble Mountains located in Siskiyou County, California. As a family owned and operated ranch, we care about what our customers and their families consume. Our family is committed and passionate about producing safe, healthy and wholesome beef for each of our customers. Over 36 years ago, our family started out by farming specialty vegetables in the Monterey Bay area. Later, our crop farming operation expanded to include gourmet baby spinach and spring mix. 


Today we proudly grow and package some of the highest quality salad mixes on the market! We have a passion for producing quality, natural foods. In 2015, we began raising our own top quality Akaushi cattle on our Ranch in Northern California! Our family is now offering  premium, wholesome beef to our customers to enjoy as another healthy food choice!
Our family is committed to the humane treatment and care for our animals' health and well-being!  All of our cows are pastured raised! As they roam in a stress-free peaceful environment, they are all fed only high-quality Plant based, non-GMO feeds to insure their upmost health! 
We also follow Dr. Temple Grandin's low-stress animal welfare methods along with the Beef Quality Assurance guidelines producing only the very best wholesome beef for our customers to enjoy!